Presentation of the Maserati Welcome Winter Tour 2016
Automobile Roadshow Maserati Winter Tour 2016, test drives on ice and snow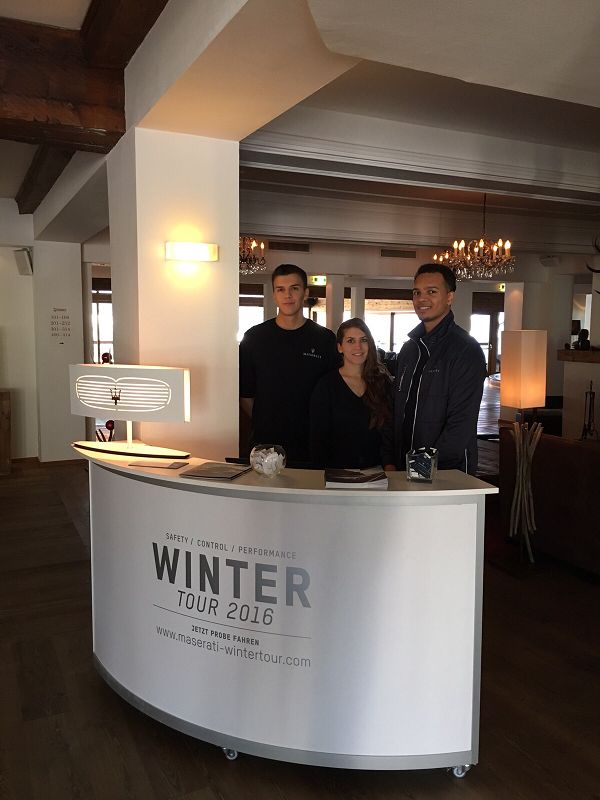 Welcome Winter, the Maserati automobile roadshow on ice and snow
Automobile roadshow on ice and snow – the Maserati Welcome Winter Tour enters its second round. After the Welcome Winter Tour 2015 as well as the Maserati Summer Tour 2015 had already been implemented by höchstmass with great success, we were once again able to offer interested participants a top-class event in 2016. Event management in its most beautiful form. The Kitzbühel Alps, the cross-country skiing area of Seefeld and the high altitude slopes of the Vorarlberg in Austria. These were the locations of the Winter Tour 2016, which we were able to organize for the second time in a row as lead agency for our client Maserati Deutschland GmbH.
A very special kind of car show
The vehicles were also allowed to show what they can do in the snow. A track specially prepared for the Maserati Automobil Roadshow provided the perfect setting. Experienced racing instructors guided the participants and radiated real sports car flair. At the Snow Track Days in Kirchberg, the drivers could experience the precise handling for themselves. During a test drive on public roads, the emotionally charged participants were introduced to the finer points of the luxury sports cars by the designated product experts. During the 30-minute drive, our brand ambassadors had plenty of time to query all defined KPI's in a non-binding discussion and thus to perfectly qualify the contacts generated.
Above-average degree of target achievement
In 2016, the specifications and the budget of the customer Maserati Deutschland were also clearly set. The agency repeatedly succeeded in improving the existing concept with the insights gained from previous presentation tours. With the Snow Track Days, an immersive experience was also created. The brand values were clearly recognizable at all times. The trained staff qualified all contacts precisely and thus contributed to further strengthening the retail trade and ensuring positive sales figures.